Since a good number of years, Microsoft Office 365 apps are enriching the business activities of enterprises of all sizes. Looking back to the advent of the Office 365 app pack, the whole suite has been facelifted a lot. Very recently Microsoft announced that Office 365 will be rebranded as Microsoft 365 from April 21, 2020.Today, this amazing office suite is helping millions of enterprises in many ways with a bunch of apps with outstanding capacities. Besides, between each season Microsoft is updating the apps and exciting the users with new innovative solutions in the Office 365 app series.
In the province of the United States alone it is estimated that 600000 companies are using Office 365 apps. Further, Office 365 apps are gaining a promising foothold across many business sectors with timely upgrades and innovative solutions.
Here is the weekly rundown on what Office 365 apps got new for us
Microsoft Office 365 Access
As a brilliant database management solution, Microsoft access is one of the most convenient information management solutions for enterprises among the Office 365 apps. It helps to analyze data more effectively and store related data together. This helps businesses to work with data more productively.
In the latest update release, Microsoft counted Access in and improved something for Query designers and enhanced the SQL view of the query. Plus, they made some improvements to the relationship window as well.
Query designers can search for text in SQL View and Replace text with the Find and Replace dialog box in the SQL View. Users can find the text by selecting Home – Find and to replace text in query just select Home- Replace.
In the design view, when some are deigning a query it is more convenient to watch table data, data type & the field properties. It further helps to create criteria or expressions with reduced time and effort. With the new enhancement, Microsoft enables you to get it done with three right lick command on the table elements which are Open( shows table datasheet) Design view (shows table design view), Size to Fit (resizes the table)
Coming to the improvements in the relationship window, users can adjust table size to roll out added fields and relationships. You can do it by selecting a subset of tables and relationships by scrolling it in both the directions (horizontally and vertically)
Microsoft Office 365 Excel
As one of the most used Office 365 app, Excel is an outstanding productivity application that helps enterprises in a lot of ways. In the April 2020 update release, Microsoft has something additional for MS excel users.
In the latest update, Microsoft provides enables the users to get a snapshot of their workbook with exclusive workbook statistics.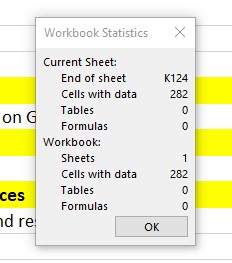 It gives the overall picture of your workbook including the information about cell data, tables, formulas, sheet numbers, etc.
Besides, the next update enables the users to adorn their presentations, documents, and emails with high-quality stock photos and add enticing backgrounds.

This is a great way to add creativity to your works and communications.
Microsoft Office 365 Onenote
This time Microsoft got something for windows 10 users exclusively for OneNote users. Marking the notes with custom tags and searching for tagged notes plus text phrases is more simple now. As an easy and secure notebook tool in the Office 365 apps series, OneNote got new control over its math assistant.
Students and teachers with Office 365 subscription can use OneNote with more control to run the classes and conduct the tests. Besides, OneNote improved its arithmetic capacities by giving X and Y coordinates of any graph while hovering over it. Plus, you can listen to the maths solution steps aloud.
In addition, the new optional dark mode eases out the eye while working on our notes. It further helps to improve readability in low environments, enhance the interface legibility, and reduce strain. Apart from that, while you are upgrading from your older version to windows 10 you can upload the notebooks to the cloud.
Plus, the new option to insert word docs, excel sheets, and PPts as printouts help to add more files to inserts and you can use the pages as an image with custom size.
Additionally, if you set OneNote as your default printer in Windows 10 you can print files from any app/browser on your PC.
OneNote improved its navigation and organization capacities too. You can hide the sections and page navigation panes when it is not needed yet the search and recent note button will be there for any assistance.
Then, if you want to upload and insert cloud files you can make it simply by selecting the option " Upload to OneNote and Insert link" and you can edit and save the file attachments into OneNote with ease now.

Microsoft Office 365 Outlook
Coming to Outlook for Windows, you don't need anymore to switch to the calendar to join online meetings. We can join any meeting by clicking the button "Join Online" hanging on the To-Do pane.
In addition, the major twist we can see on Outlook in this new update is friendlier links in emails. This feature helps you to shorten the URLs to the name of the inserted file from SharePoint of Onedrive. Users can see the full URL by selecting (right-click) "show full URL".
Users can insert the file links in two modes
Go to the Message tab > Link > Insert Link (select the file stored n SharePoint or Onedrive)
Copy the link (file stored in on the SharePoint/ Onedrive) and paste it into the email message.
(Outlook automatically add the file type icons) You can also manage the access permission on "Link settings".
Moreover, you can be more creative in your email messages with free stock-images and backgrounds. You can add it by selecting insert stock images from the option.
Read more about why should you migrate to Office 365
Microsoft Office 365 Powerpoint
Microsoft PowerPoint is giving out an option to share a link to a specific slide in the latest update. With this option, the users can ask their colleagues to edit or view by sharing it directly with them.
The users just need to right-click and copy the slide link and mail to the recipient.
Besides, as we have found in Excel and Outlook, Powerpoint also got free stock photos and background updates. We can insert high-quality stock images and backgrounds on the sides with a few clicks.
Microsoft Office 365 Project
With the new update in Office 365 Projects, it is way easier to switch between accounts. Imagine you have Microsoft account and Microsoft 365 account ( business/education) you can now hop between these accounts easily.
Users need to simply click on their names/photos to switch between accounts. In another way, if you are not added your account to Office, just sign in with a different account option.
Microsoft Office 365 Visio
The new update in Visio enables the users to automate the workflow more effectively with Power Automate (you need a qualifying Microsoft 365 subscription/Power automate plan). It is easier than never before to create BPMN diagram in VISIO and then export it to Power Automate to automate the flow.
Microsoft Office 365 Word
As the most beloved app in the Office 365 app pack, Word has always been a great help for many. The new updates on word ease out our work even further. With the new update in Word, you can create a private copy of shared documents with a few clicks.
In addition, you can edit the documents with natural gestures with your finger or a digital pen. Plus, with the amazing features of the Ink editor edit, you can draw circles, lines, highlight texts, etc. Plus, the added features in the editor helps us to check grammar, spelling, and content structure suggestion to improve the writeups. Yet again, you can get free stock images option in Word as well.
Microsoft office 365 got plenty of solutions for simplify our every business tasks. Each month we can see new updates and innovative features are adding up. Sometimes it might be an additional feature on an existing Office 365 app or else a new app pop up with new solutions.
However, to tap the most out of Office 365 apps, you must need some professional assistance. Hence, reach us for any assistance that you need in purchasing office 365, activating office 365, technical support on Office 365 etc. Medha hosting is here to support you 24/7.