Web hosting is one of the backbones of the digital era we live in today. It is precisely what coal and steam used to be for the industrial revolution, the right source of power. Over the years, having a website has come a long way. From just a vanity gig to being the major operations center, websites have traveled from being in your desktop to directly in your hands through smartphones.
Right at the heart of your business's online presence, which is due to the website, has the core of the right web hosting service and an amazing IT strategy. Web hosting plays an essential role in any online business. Without a dedicated hosting plan, your website would not have its existence. Maybe that is why choosing the right hosting package is crucial to fulfilling any online business needs.
According to the web hosting statistics posted on Finance Online, the global web hosting services market is expected to reach a valuation of $76.2 billion by 2023. Considering such huge numbers, it is evident that businesses worldwide realize the actual value of having the right web hosting choice.
Where there are a variety of web hosting options to choose from, the most common ones are:
WordPress Hosting
Shared Hosting
Cloud Hosting
Let's take a deeper dive comparing two of the most attributed out of this lot, i.e., WordPress vs. Cloud hosting.
Cloud Hosting vs. WordPress Hosting – Analysis to Make the Best Choice for Your Business Growth
Though every business need to get hosted on anyof the available platfrom, the ideal landscapr for each businesses is different. The perfect server for a blogging website is way far different from a perfect server for a eCommerce website. Hence, it is important to analyze what is the best fitting hosting platform as well as best supporting hosting provider for your business.
The following are the six main points in comparison up for analysis to make the best choice for your business growth.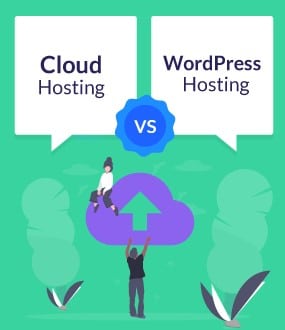 1. Performance
When it comes to performance, it is mainly about how smoothly your website experience is for the customer. The standards for a convincing performance are faster-loading speed and more reliable uptimes.
Cloud hosting would give you the option to adjust your resources according to the traffic you get on your site. If a sudden traffic surge is expected, then you can go for more bandwidth to keep the site running smoothly.
WordPress hosting can be more basic in comparison. You have a limited number of resources that you cannot possibly exceed. The limits can interchange depending on the plan you choose with your web hosting provider. You would need to be sure of your performance for it not to be an issue.
2. Security
Security should always be on top of your priority list of attributes no matter what hosting service you go for. It is primarily a major concern if your online business data is essential for your business operations.
Remember that it is definitely secure in the case of choosing cloud hosting, but it is not impenetrable. Your website would be spread out on various servers. But as you would still be sharing it with other websites, if any one of the sites on that server is compromised for security, your website is at risk too.
WordPress hosting is similar to cloud hosting when it comes to security operations. The upper hand here, however, is that due to malware scan and firewalls, the site is automatically backed up.
So if anything does go wrong by any chance, the external WordPress attributes of backing up data would allow quick restoration. It offers tailor-made security plans that are consistent with backup data and regular security updates to keep your data safe.
3. Management
Cloud hosting is an entirely well-managed service. From general setup and fixtures to bug fixes and upgrades, your CSP would figure out everything for you. That is why it works great for new business setups that are short of time and even for startup platforms that offer technical services and support.
On the other hand, WordPress gives you a clear choice. You can choose to get yourself a managed or an unmanaged hosting plan. It just comes down to whether you would go for the cheaper option or pay for a better one.
4. Scalability
Scalability is simply the potential to grow. Every business owner looks forward to its business growth. So it is understandable that they would go for a hosting service that grows simultaneously to cater to the growing needs.
Cloud hosting is attributed to its huge scalability. Your resources are rightfully used as you are only paying for what you use. And down the line, you can expand or contract as per your needs.
However, WordPress hosting is limited at a point. You can go from shared to a managed hosting plan, but then that's about it. Beyond that, your resources are limited, that cannot be exceeded.
5. Pricing
Pricing is the tricky part out of all the major analysis points mentioned. Many business owners are stumped when it comes to pricing, which is why it shouldn't take up the top choosing spot on your list.
Where cloud hosting is more of a pay-as-you-go type of payment plan, WordPress works on the basis of provider to provider dependability.
With the cloud, you have the freedom to choose as per your requirement, and your resources never go to waste. With WordPress, you have to get the whole package, whether you really need some of the features or not.
6. Top Providers
Both cloud hosting and WordPress hosting has its dedicated server providers known for features, performance, and pricing allotted to their clients as per their needs. The following are the three best hosting service providers for each of them:
Cloud Hosting Providers
A2 Hosting
Site Ground
1&1 IONOS
WordPress Providers
Bluehost
HostGator
A2 Hosting
Bottom Line
By now, you would be well aware of how and when one of the two web hosting services has the edge over the other. The choices are easy to make if you are clear about which attribute is a priority for you. Each of the two has features that are dedicated to catering to specific business needs.
If you require more flexibility and adaptability, then go for the cloud. Similarly, if you want to avoid consistent maintenance, then WordPress should be your choice. Nonetheless, both can play a crucial role in taking your online presence forward exponentially.