Top 10 Reasons - Why Outsource IT Technical Support
Why Outsource IT Technical Support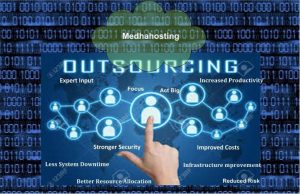 The technical support team for your business can play a significant role in the successful running of your company. Everyone is turning towards third part outsourcing whether they are a small to mid-sized business or a large enterprise. This article highlights the top ten reasons to go for outsourcing in handling technological aspects for improving productivity in your business.
1. More Focus towards Business Improvement
Since you may or may not be an IT professional, thus it is better not to waste time in fixing, maintaining and up gradation of your technological systems. Outsourcing provides you the customer support to you better concentration towards business operation without losing focus because of software, the hardware of network management.
2. Expert Input results in Greater Benefits
IT service providers have the competent professionals to work solely towards your IT technical support  needs. Their expertise helps in solving your business problems faster and in an uncomplicated way saving time and energy wasted by an unqualified person on fixing system issues.
3. Less System Downtime
Due to the proactive approach of 24/7 monitoring of your system taken by dedicated IT  Technical support services results in lesser system downtime. They will be vigilant enough to spot problems before they arise and stop their occurrence saving you from wasting your resources on system troubleshooting.
4. Increased Productivity
More gets done as a direct result of the smooth operation of your technological infrastructure. Thus the contribution by your staff improves manifolds as they are free from handling the technical issues in your business.
5. Improved Costs
Third-party IT companies charge flat monthly fees for products services, which are affordable for a multitude of services. Since you will know from the start your IT needs and how much capital should be kept to get the best technological features, it will be easier to budget your needs. This results in saving of money that can be used for other business growth areas.
6. Stronger Security
Outsourcing companies like Medha Hosting provide the most efficient protection against spam, malware, and viruses in addition to 24x7 systems monitoring to keep a system 'bugs' free environment.
7. Infrastructure Improvement
With outsourcing, you have the option to consult an IT services provider to better identify your current infrastructure and computational models for existing issues and to get suggestions regarding improvement in flow and system performance along with system storage management. This is an excellent way to increase your business growth by up gradation during system overhauls and avoidance of future issues.
8. Reduced Risk
A third party IT provider like Medha Hosting offers services for disaster and emergency operations and continuously monitors your system saving you from losing all your data in case of a system crash.
9. Act Big
IT outsourcing allows small business companies to act as big as large corporations by providing them access to technologies employed by more major businesses.
10. Better Resource Allocation
An all inclusive outsourced model can allow organizations to allocate resources to business areas requiring critical attention strategically
Medha hosting is forerunners in providing the best outsourcing services. Some of the services include
Different Supported OS Versions
Server Monitoring (24 x 7 x 365 days in 5-minute intervals)
Initial Server Setup
Server Backups and Restore (Backup Configuration and Restoration plus a full system recovery)
Disaster Recovery and Hack Recovery
Response and Resolution Guarantee
Server Optimization
Automatic Updating of all Windows Applications including Security Tools
For a deeper understanding of the benefits and considerations of IT outsourcing, visit The Benefits of IT Outsourcing and What You Need to Know.
To learn more about selecting the right IT outsourcing partner for your business, check out How to Choose an IT Outsourcing Company.